A how-to guide to being all dressed up... and completely smitten
Step One
base layer
Start with your merino leggings
- They work under everything!
If you choose 2 or 3 different tops, you can mix and match your look. You can wear them under or over for a different style!
Lightweight (200g), you can even wear them under your jeans.
Leggings are available in black and steel, or if you're feeling a little adventurous, try the stripes.
Leggings can double as the perfect PJ's when you're away... combine your merino camisole (black or ivory) with a long sleeve top (stripes, spots or plain) and you're already warm…
Keep these under layers fitted for maximum heat efficiency. Wear wool socks not cotton if you want really warm tootsies. Wear knee high wool socks over your leggings and under boots for a cosy and fabulous winter look.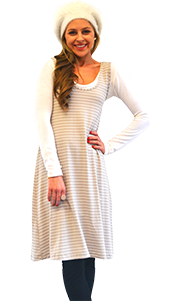 We lose up to 60% of our body heat through our head, so it's wise to wear a merino beanie or warm wool hat if you want to be toasty.
Extra warmth on your legs is more effective than on your torso.
Some simple rules
for surviving winter
Cotton denim jeans are not warm on their own, especially when the weather is cold AND wet. Cotton absorbs moisture - great for towels, but not for winter clothing.
Merino wicks moisture away, keeping your body warm and responds to changes in body temperature.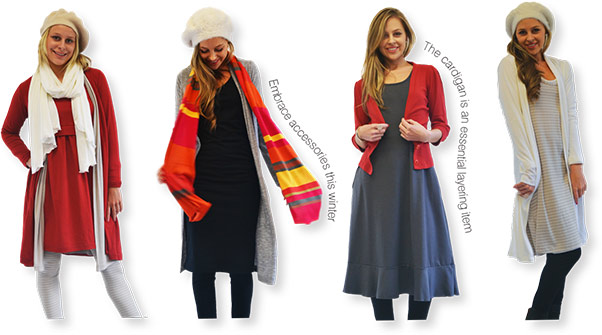 Merino dries super fast - perfect if you're travelling. It is also stain repellent so needs less washing.
You can never have too many layers, be confident with them!